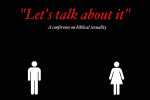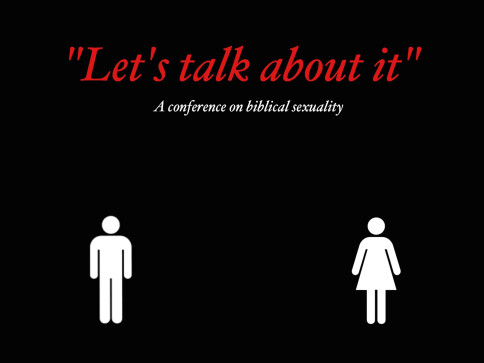 On november 14, 2015 Forrester Community Church will be hosting a conference called "Let's talk about it" on biblical sexuality for both youth and their parents to attend. The issue of sexual immorality has caused much pain in the lives of families through it's surprising pregnancies before marriage, it's adulterous watching of pornography, it's culture-dividing, LGBT movements, it's deterioration of intimacy inside of marriage through giving oneself to many others in many ways and worst of all, in it's deadly promises that the world is better than Jesus! This has left churches and parents to respond with either fearful aggression or fearful recoiling. Neither of those are biblical or helpful. Therefore we are in desperate need of a restoration of God's good design of sexuality and an understanding of how the gospel does that! Below, I have included just a few reasons on why you as parents should sign up both yourself and your youth (6th-12th grade) for "Let's talk about it".
Reasons:
1. If by saying the word "sex" I make you feel uncomfortable or felt like I have said a word that your kids don't need to hear or speak of until marriage…then you need to come to this conference. What is underneath that is that we believe sex = bad…at least when our youth talk about it… We have to remember, God is the one who created it and youth need to understand it's not that God is being mean and keeping something fun from us. Rather, it is God protecting something beautiful for us. Therefore, we need a greater understanding of sexuality, not a lesser understanding of it. We need to gain a restored image of biblical sexuality.
2. Why do you need to gain a restored image of biblical sexuality?1. For God's glory and 2. Because i'm fearful that our weak and wimpy attempts with our "save it for marriage because it's more special" mindsets will not stand when the temptation for sexual immorality tugs at them. I'm fearful that it will not stand, apart from the grace of God, when your youth find themselves on the on-ramp to sex and the pressure of societies' cars are riding their bumpers and making them go faster than they want to go. When their reputation is on the line and their own heart deceives them, they may find themselves without any logical reason as to why they should slam on the brakes and turn around. But hear me carefully here…I'm not saying that this conference is the immunization from sexual immorality, but I'm certainly saying that youth have no hope of approaching sexuality in a godly way without a biblical view of sexuality.
3. Eternity is at stake. Don't take that as an overstatement. We aren't just trying to save them from making a "mistake". We are trying to save their soul for eternity. Sexual immorality is one of the most enslaving, heart-gripping temptations that we face today. That is because sin if fun, invigorating and offers you everything that our hearts want, but it delivers little of what it promises. It is empty and it is enslaving. My own testimony shows it. Statistics testify to it and scripture speaks of it's eternally damning effects. Let me give you just a few examples…
He who commits adultery lacks sense; he who does it destroys himself. (Provers 6:32)


Or do you not know that the unrighteous will not inherit the kingdom of God? Do not be deceived: neither the sexually immoral, nor idolaters, nor adulterers, nor men who practice homosexuality, nor thieves, nor the greedy, nor drunkards, nor revilers, nor swindlers will inherit the kingdom of God.(1 Corinthians 6:9-10)


For you may be sure of this, that everyone who is sexually immoral or impure, or who is covetous (that is, an idolater), has no inheritance in the kingdom of Christ and God. (Ehesians 5:5)
4. Lastly, and maybe most importantly, there is hope for the sexually immoral! All people who attend this conference will have committed some sort of sexual immorality. They will have been involved in sex outside of marriage, gone too far with a girlfriend or boyfriend, looked at pornography, masturbated, struggled with same sex attraction, had lustful thoughts about someone or any other form. However we want them to know that the gospel message can not only forgive them for their sins, but restore their sexuality! The same God who said that He starts a work in us is the same God who completes that restorative work (Philippians 1:6)! He does not leave any of His people partially fixed, but will fully fix them at the day of Jesus! Come and see how the gospel makes us whole and restore a delighting in God's good design of sexuality.
Again, these are just a few of the reasons to attend this conference. If you are a parent of a youth aged child, then prayerfully consider coming to "Let's talk about it". Find more information about the conference and sign up HERE. If you have any questions, please feel free to EMAIL ME.